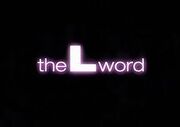 The L Word
 is an American/Canadian co-production 
television
drama
 series portraying the lives of a group of 
lesbian
, 
bisexual
, 
straight
 and 
transgender
 people and their friends, connections, family and lovers in the trendy 
Greater Los Angeles
, 
California
 city of 
West Hollywood
. The show originally ran on 
Showtime
 from 2004 to 2009, and subsequently in syndication on 
Logo
 and through on-demand services.
Main crew
Edit
The show was created by executive producer Ilene Chaiken (Barb Wire, The Fresh Prince of Bel-Air). Other executive producers include Steve Golin (Being John Malkovich, Eternal Sunshine of the Spotless Mind) and Larry Kennar (Barbershop). Besides Chaiken, writers of the show have included Guinevere Turner (Go Fish, American Psycho), Susan Miller (Anyone But Me, Thirtysomething), Cherien Dabis (Amreeka), and Rose Troche (Go Fish, Six Feet Under).
Production
Edit
The pilot episode premiered on January 18, 2004. The original five-year run ended with the series finale's airing on March 8, 2009. Outside the United States, the series is distributed by MGM Worldwide Television. The L Word was filmed in Vancouver, British Columbia, at Coast Mountain Films Studio, as well as on location in Los Angeles, California. The studio was once owned by and named for Dufferin Gate Productions, the sister company to Temple Street Productions, the Canadian producer of the U.S. version of Queer as Folk.
The original code-name for the project was Earthlings, a rarely used slang term for lesbians.
Contemporary use of the phrase "the L word" as an alias for lesbian dates to at least the 1981 play My Blue Heaven by Jane Chambers, in which a character stammers out: "You're really...? The L-word? Lord God, I never met one before."
Historical use of "the L word" as code language can also be found in the sentence of a letter written by Daphne du Maurier to Ellen Doubleday: "By God and by Christ, if anyone should call that love by that unattractive word that begins with 'L', I'd tear their guts out."