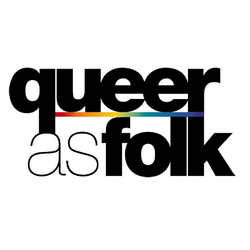 Queer as Folk is a television series. An American-Canadian co-production, the series was produced for Showtime Entertainment and Showcase by Cowlip Productions, Tony Jonas Productions, and Temple Street Productions in association with Channel 4 Television. It was developed and written by Ron Cowen and Daniel Lipman, who were the showrunners, and also the executive producers along with Tony Jonas, former President of Warner Bros. Television.
Based on the British series created by Russell T Davies, Queer as Folk was the first hour-long drama on American television to portray the lives of gay men and women. Although it was set in Pittsburgh, PA, interior scenes were actually shot in Toronto and employed various Canadian directors known for their independent film work (including Bruce McDonald, David Wellington, Kelly Makin, John Greyson, Jeremy Podeswa and Michael DeCarlo) as well as Australian director Russell Mulcahy who directed the pilot episode. Additional writers in the later seasons included Michael MacLennan, Efrem Seeger, Brad Fraser, Del Shores, and Shawn Postoff.
Show premise
Edit
The series follows the lives of five gay men living in Pittsburgh, Pennsylvania, Brian (Gale Harold), Justin (Randy Harrison), Michael (Hal Sparks), Emmett (Peter Paige), and Ted (Scott Lowell); a lesbian couple, Lindsay (Thea Gill) and Melanie (Michelle Clunie); and Michael's mother Debbie (Sharon Gless) and his uncle Vic (Jack Wetherall). Another main character, Ben (Robert Gant), was added in the second season.
International release

Edit